i8 Keyboard Remote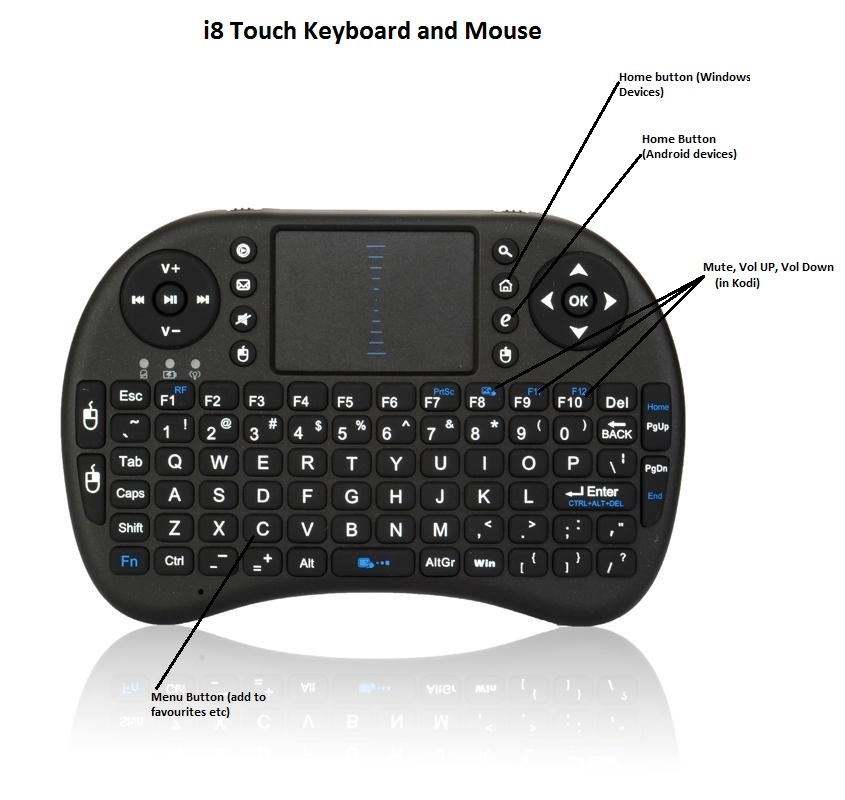 Getting Started with the Wireless Touch Keyboard
After unpacking your remote, charge the battery fully before use. You can find the little WiFi dongle inside the battery compartment. Plug this into an open USB slot on your Android box. This is how your remote connects to your box.
To activate the Backlight feautre, hold down the Fn key and press F6 (F2 on some models). Repeat to turn it off.
Keyboard Shortcut Keys while in KODI
KEYS
GLOBAL
VIDEO PLAYBACK
C
Context Menu (add to favorites etc.)

Playlist

D
Move item down (Favorites window)
F
Fast forward
Fast forward
I
Info
Info
M
Player Controls (play, pause etc)
P
Play
Play
R
Rewind
Rewind
S
Shutdown / Quit Menu
Shutdown / Quit Menu
T
Toggle Subtitles on / off
U
Move item up (Favorites window)
W
Mark as Watched / Unwatched
X
Stop
Stop
Z
Zoom / Aspect Ratio
Space
Pause / Play
Pause / Play

←

Left

Seek Step backward

1x 10s, 2x 30s, 3x 1m, 4x 3min.....

→
Right

Seek Step forward

1x 10s, 2x 30s, 3x 1m, 4x 3min....

↑
Up
Seek Step forward 10min or Next Chapter
↓
Down
Seek Step backward 10min or Prev Chapter

↵

Enter
Select
Player Controls (play, pause etc)
← Backspace
Back
Back
Esc
Previous Menu or Home Screen
Exit Fullscreen
---
There are no products to list in this category.